Harry Potter Wall Art FAQs

Q: What is Harry Potter Wall Art?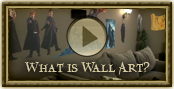 Q: How is your product unique? How is it different than a poster or other wall decals?
A: This is a fantastic question. All of the products on HarryPotterWallArt.com are made with the special patent-pending material. The material creates such a unique product for wall decor you will be amazed by the cross between beauty/art and durability.

Here are a few of the items that set our products apart from posters and other wall decals:
• Removable
• Reusable
• No sticky residue
• It sticks securely in all weather;
• It's easily removed from any surface with no residue;
• It can be applied and removed numerous times, retaining its adhesive characteristics;
• The adhesive is water-resistant;
• The material can be illuminated with back-lighting;

So in summary...
• Ours has an adhesive will not leave a sticky residue against 99% of any surface.
• It does not rip or wrinkle.

Other facts and applications:
• You can place it on glass, vehicles, lockers, desks, computers and many other surfaces.
• It can be illuminated with a backlight, or in front of a window.
• It can be wrapped around wall corners, ceilings and poles, re-positioned and re-used over and over again - it is very resilliant.
• You can place the product indoors or outdoors in any weather condition.
Q: How do you install Harry Potter Wall Art decals?
A: Thanks to our patented fabric material and its repositionable self-adhesive, application is a real breeze! It requires merely a clean surface, a smattering of hand/eye coordination, and depending on the size of your decal, some teamwork.
Step 1: Make sure the designated surface is clean and free of debris. **WARNING: Please do not apply to freshly painted walls - allow 3 weeks for paint on wall to cure before applying wall artwork.
Step 2: Unroll your decal and allow it to flatten prior to applying it to the wall.
Step 3: If your decal is one of the larger sizes, you may need 2 people to install it.
Step 4: With a person on each side of the decal, start at the top end and slowly peel back approximately three to six inches of the paper backing from the decal.
Step 5: Apply this top part of the decal securely to the surface.
Step 6: Slowly peel back the rest of the paper backing while carefully smoothing out the remainder of the decal at the same time working from top to bottom.
Step 7: Once it's in place, the self-adhesive material allows you to reposition and smooth out any wrinkles or bubbles until you are happy with the placement.
Step 8: Finally, step back, take it in, shout out loud at how incredibly cool it looks and ENJOY!
Step 9: We recommend that you keep the paper backing in case you want to store it or transport it at a later date.
Q: What is your return policy?
A: If you receive the incorrect wall art from the order you placed we will happily exchange your item and ship you the correct product (we pay shipping charges). Any exchanges made must be first authorized and also received in original condition (i.e., as received, with wall decal fully intact and still attached to the removable backing). We do not authorize returns for subjective reasons such as "I dont like the way the colors blend with my wall", "I didn't realize this was Wall Art" or reasons that are beyond our control. Our products are made of the highest quality materials. We provide exact images on the website for your review - "What you see is what is printed" in terms of color and quality. If an item arrives and is damaged, broken, or mangled by the shipping company you will need to file a claim with the shipping company. They will require pictures and that you retain the original product and packaging, contact us for assistance with your claim process.

Q: Do you sell anything that is "NOT" a Wall Art product? In other words, the product images look so realistic it appears as if you are selling "Candy Frogs", "Candy", "Wands" and other non-wall art products.
A: Our website ONLY focuses on selling Removable Wall Artwork and Wall Decals. We do NOT sell candy, brooms, wands or other physical products on this website that look like the real thing. If there is confusion please do not hesitate to contact us if you are looking for candy frogs or other licensed products - we will need to refer you to another website.

Q: What is the purchase process?
A: We want you to enjoy shopping with us. In this spirit, we keep our terms and conditions simple. When you click on the purchase button on the shipping screen in the purchase sequence, you indicate that you are purchasing the products in your shopping bag and authorizing us to charge against your credit card. If this is not your desire, please inform us by contacting us and canceling the order before it is shipped.

Q: What are your payment methods?
A: Payment can be made for our products via credit card on our website. Paym ent can also be made through PayPal. If you would rather pay with a money order, please address it to:
Harry Potter Wall Art
c/o DreamTrust Corp
9225 Harrison Park Court
Indianapolis, IN 46206
If you place an order on HarryPotterWallArt.com, you are indicating that you understand, agree with, and accept the above terms and conditions. We are grateful for the opportunity to serve you!
Q: Will your Harry Potter products leave a sticky residue or harm my walls?
A: Great question! Actually NO - our fantastic, dynamic material will NOT leave marks, sticky residue or will not in any way harm any surface. You may also put our wall art on top of your wallpaper!

Q: Where do you ship your products?
A: We currently ship to the United States and most of North America. We do not ship overseas. Please continue to check back, there will be other shipping locations we will be adding all over the World.

Q: How soon do I receive my order?
A: After you place your order, it will typically take about 5-10 days to prepare before it ships. Once it is ready the standard/default shipping is UPS Ground service. You can expedite/upgrade the shipping through our e-store. Once it ships out we will send you a tracking number to check on it all the way to your doorstep. Note: the shipping date is calculated AFTER your wall art is manufactured. In the case of "Next Day" shipping orders - if you order the product on a Tuesday - it will most likely NOT ship on Wednesday (unless it is an item we have high inventory levels). It would ship overnight the day it is manufactured. If you have a special shipping requirement like a Birthday or Holiday contact us if you have any questions before you place your order.